7 Billion Friends
Jun 16
I moved! But not far
I'm only a click away. 7billionfriends.com is retired for now. I needed a new sheet of paper and found one at The Great American Pixel. See you there!
CAW!
May 15
The Nosebriidge Neighborhood, SF Events This Week
Mary, Larry, Krista and I are all connected up in San Francisco getting ready for this week's meetups and presentations. Tonight we're at Noisebridge at 7 for an open meetup (Facebook event page with deets). Tuesday Mary and I are speaking at Institute for the Future. And Tuesday night Larry, Mary, and I are demoing at SF Beta. 
For the Noisebridge event tonight we're trying something new that we've been thinking about for a while. We laid out a design for a neighborhood called Nosebriidge (spelling intended :)) and Larry drew it out on paper. Anyone who buys land tonight will go in the Nosebridge microhood and can draw on their land. We'll upload the drawing onto the map on Hello World so the handmade marks will show up on the map.
If you're in San Francisco, hopefully see you at one of these events! 
May 10
"I want you to be there." Micro Meetups in Detroit and San Francisco this week!
OK first off, the new blog I tried to make is being a jerk, so long live this one for now! It's good to be back in the neon green. :)
This week there are 2 informal micro meetup micro parties for LOVELAND micro real estate, one in Detroit THIS WEDNESDAY and one in San Francisco THIS SATURDAY. Mary and I have the honor of being flown out to west side for a talk about the project at a conference by the Institute for the Future in Palo Alto and want to make the most of our trip there.
Here are the details on both:
* The Detroit event is this Wednesday, May 12th at 7 PM at our studio at the Russell Industrial Center, 2nd floor, building 2, suite 211 at 1600 Clay St. Here's the Facebook event page with RSVP and here's the google map.
* The San Francisco event is this Saturday, May 15th at 7 PM at the Noisebridge hacker space in the Mission at 2169 Mission St. Here's the Facebook event page with RSVP and here's the google map.
My cell is 908-343-1981 if you get lost, want to talk, or anything else.
Here's generally what to expect: We'll have some refreshments and things like that, and we want to share a short interactive presentation on the adventure-in-progress that is LOVELAND, brainstorm cool ideas, hang out and help connect some cool peops. It'll be nice and casual.
LOVELAND rolls pretty punk rock and mysterious as far as startups go because we're trying to create a culture and a brand that can constantly transform itself, and I can't wait to share the more comprehensive and complete story of where this came from, where it's at, what we've tried and learned so far, and where we see it going as we continue leveling up and adding definition.
It's gonna be fun and interesting. We hope to see you there! : )
Apr 26
Begging For Batteries: What We Need To Make The Solar Streaming Property Camera Work
Update: Wow, great news! Phillip Cooley has stepped in and purchased the battery we need to stream the property. You, sir, are a gentleman and a scholar, and very worthy of Mary Lorene Carter's newest trademark compliment: "You are a good person, and people say nice things about you." We will do you proud, and you have made us and many inchvestors happy. Now everyone go eat at Slow's Bar-B-Q. :)
Battery down. Everything else still applies:
—-
Alan has been nailing it on our Project Lemon Battery solar powered web cam ++. We have the solar panel, we have the first camera (an old iPhone that streams over 3G), we have the working software that automagically posts pictures to Flickr every 10 seconds, we have the 21 foot tall poll cemented in the ground with wires running through it, and we have the birdhouse in which the camera will sit. 
What we don't yet have is the battery we need to install at the base of the pole to make sure that the camera will be recharged by the solar panel and ensure the camera stays on even when the sun is hiding. The price of this badboy is $342 plus $98 shipping, for a grand total of $440. Look at this beast:
Check out the videos we've made using Lemon Battery so far. Both of these show us terraforming Plymouth, the first LOVELAND property of 10,000 inches for 588 people.
Here's digging out the shape of Plymouth and digging the hole for the pole:
Here's planting the pole in the ground, tying it in place, and filling the hole with concrete:
Further, Mike R has been working to layer graphical magic on top of the Lemon Battery stream like this:
So we have an awesome AWESOME package in place but we need help affording the battery. If you want to see this system happen sooner than later please buy some land in the new property, Hello World, or get in touch about becoming a sponsor of the battery.
You can buy micro real estate in Detroit here at $1 an inch, and you can call me at 908-343-1981 to talk. Remember, LOVELAND has been entirely bootstrapped from tiny inchvestments (inch sales) rather than large investments, and we're doing our first grant program where we're splitting money from inch sales with other projects in the city. 
If you're a Plymouth inchvestor, chipping in will get your land online faster and help get this unique system up and running. We've been getting interest from other projects in Detroit that want to use the system, and we're down for that. So let's get this battery and spread the love, sunshine, streams, and lemons.
Thank you and awesome.
Neighborhoods, Services, and Sponsors, Oh My!
These past couple of rounds we've offered a new inchvestor reward and feature. If you own a square foot or more of LOVELAND (144 inches) you'll get your own Neighborhood that you'll be able to control with the similar tools to what we use behind the scenes, allowing you to give away or sell your land to friends or anyone and lay out their property lines. We'll feature Neighborhoods alongside the full property map, encouraging people to explore them in particular. It's your own little Sim City.
As we build the Neighborhood tools we're paying attention to how the tools could be applied to human-scale macro real estate. We've had some meetings with groups interested in using the mapping tool in their neighborhoods. So cool. Larry has been rocking it, and the first map like that we put together is of the second floor of building 2 of the Russell Industrial Center. This map represents all the studios and I'm just sending invites out to all the occupants so they can log in and fill out what they do there. See the interactive version here.
We're also working on bringing back an older idea and implementing an Inch Services section. What's an inch service? Well, hopefully it will be an immediate answer to the question, "What do I do with my land?" LOVELAND itself will offer a few basic services like, for example, if you'd like to pay for a seed to be planted on your land, we'll go do that for you. And if people want to offer their own services to inchvestors, they can do that. For example, miniature model maker John Bell has been thinking about a new micro car factory called Packard II. Want a miniature car for your micro real estate? There's There will be an app inch service for that. Want to offer a service of your own and make money if people want to buy it for their land? Get in touch.
We could also use more monetary support to keep going strong. Funds are always super tight, and it makes sense to offer a way for people and businesses to support the project without having to buy land. We're working on a new map interface that will feature Neighborhoods, inch services, and property sponsors. Here's a sketch Alan made as we work out the design: 
If you're interested in supporting the project and becoming a sponsor we can work that out. We're not totally sure what to charge or how to handle it yet so I can't be specific on what we're asking for yet, but that's all the more reason to get on the phone and talk about what's fair. 
As always you can call me at 908-343-1981 or email jerry[at]makeloveland[dot]com. And as always you are encouraged to buy land and have fun. :)
<3
Jerry
Apr 22
"@makeloveland Chicken!" My Short Talk On Augmented Twitter at The 140 Characters Conference
Mary gives the fuller story, but the panel I was on at the 140 Character Conference was rocked by volcanic eruptions that stranded Josh and Rita in London while Tish Shute and I carried on in condensed form. Here's my supershort superfasttalk that touches on inspiration for bringing elements from virtual worlds out onto the realtime web and the really real world:
@makeloveland Chicken! Augmented Twitter supershorttalk at 140 Characters Conference from Jerry Paffendorf on Vimeo.
Here's the link to the @thekotel project I mention (Tweet Your Prayers — apparently my tweeted prayer for peace and pizza is on its way to the wall in Jerusalem, how crazy is that??) and the 3D Mailbox website (alchemically turning words into graphics = best concept ev-ar). Aaand here are some Augmented Reality pics Mike Rugnetta put together on inchvestor land in Detroit as we work on getting Project Lemon Battery humming with LOVELAND.
Augmented mARy:
Augmented Volcano:
Augmented Robot:
It's been an inspiring trip to New York. Now headed back to Detroit all pumped up on passionate internet movers and shakers, with a few new ideas up the ole sleeve. <3 Got more to say about this stuff, but once again need more time. :)
/cue get-off-the-stage music
Buy land, have fun,
Jerry
908-343-1981
jerry[at]makeloveland[dot]com
Apr 12
First Day of Plymouth Construction and Lemon Battery Time-lapse
Yesterday Alan, Mary, James, and I (joined by two students shooting documentaries in Detroit) broke ground on the site of Plymouth, the first 10,000 square inch LOVELAND property. We dug out the shape of the grid so we can pour a concrete border and path into the middle and run the property lines for 10,000 square inches, and a 3 foot deep hole to plant the pole for our Lemon Battery solar panel and camera.
Alan brought the solar panel and the camera to record the work. Over the course of 2 and a 1/2 hours Lemon Battery snapped 636 photos and automagically posted them to its Flickr account. The photos were then pulled into a time-lapse video on Youtube:
Blows. My. Mind. We've got quite a powerful live and archival documentation tool to play with now, and we'll be able to overlay the physical property installation we're constructing at 8887 E Vernor Highway:
with the online property map:
Here's the 21 foot tall pole the camera will go on:
And here's the birdhouse that it'll go in as a mount:
Thanks Tim! If you ever need a birdhouse in the greater Detroit/Hamtramck area, this is your shop.
Tell 'im LOVELAND sentcha.
"The project is too weird for me not to do it."
If you want to see one of the cooler, weirder, more surprising transformations on the popular internet, this is what Flickr the photo sharing site looked like when it started out as an open-ended virtual world called Game Neverending (2002 - 2004):
link via Waxy
Now co-founder Stewart Butterfield and friends are working on a new game called Glitch coming out later this year, which, if history is any guide, will somehow morph into something that saves the publishing industry (or something like that :)). Here's the trailer:
And! He also has himself 12 shiny new inches in Detroit, saying the project is too weird for him not to. This bodes well for LOVELAND in a not so weird way. I wonder what we'll hatch into in the future, too, having created sufficiently weird conditions that hatching can happen. :)
I put Stewart on an open space of the map figuring there are some people who'd want to self-select to be his neighbors. So, who's in? He probably doesn't mind if you play your music loud at night or check the mail in your underwear. Become Stewart's neighbor right here.
Welcome aboard, Stewart. Keep Austin LOVELAND weird!
Apr 07
What's Goin' On?! A Quick LOVELAND Update
Holy crudler, time flies. Here's the quick scoop.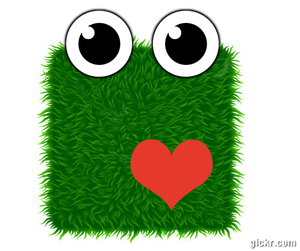 ☛ We're beginning to fill in the new 50,000 square inch Hello World property. Please inchvest here at $1 a square inch. We have a goal to hit over the next few days. 1/2 of the inchvestment money goes to 7 other grant projects in Detroit. The rest goes to us building rad stuff for you. Not that we've been prying into your affairs, but we have heard through the grapevine that you like RAD STUFF!
Here's Hello World in progress, let's fillerup!
☛ People are logging into the new site Larry made and saying Hey! Definitely try it if you haven't yet and see who your neighbors are. You definitely see some interesting activity. :) Here are some clips I captured:
☛ The transformation of the Plymouth property begins this week! Here's the property, pre-mowing, as modeled by Mary.
☛ Here's what we're constructing to define the 10,000 square inch property: a 9 x 9 foot grid with foot wide border and path into the middle. The pole is for the solar powered camera that will stream it online:
☛ We got our solar panel in the mail. Look at that badboy! (I'm talking about the panel, not Alan):
☛ Mike R is working on an Augmented Reality overlay for the camera feed so you can toggle the property lines on and off (by the way, he just did A Ticket for Rush ;)):
☛ And even overlay imagery of your choosing:
☛ We had a meeting with The Villages Community Development Corporation last week (Plymouth is in the East Village area of Detroit) which was very encouraging as regards scaling LOVELAND up in the future. Imagine that the property map you log into on the website wasn't only for inches, but whole neighborhoods or whole cities. We're going to meet again to see if maybe we can share some tools and data.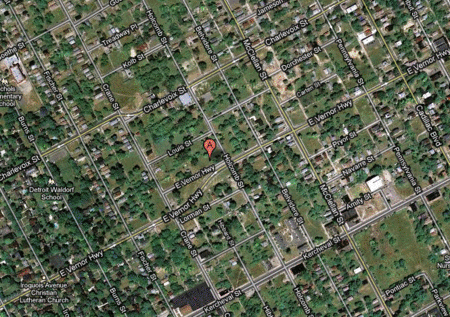 ☛ Maybe we'll try one out with the Russell Industrial Center first. They kindly sent over their floor plan and occupant map to us today. The RIC suffers from the same problem that a lot of communities do: How the heck do I know who's here that I might like to meet or collaborate with, and how can we talk about what's going on around us? Almost like a social network for space. Maybe we can use this as a real life test case, starting with the floor that LOVELAND's studio is on.
☛ We're also starting to look seriously at grants and alternative forms of funding for the project. It's become hard enough paying for everything we need to, let alone want to. To support LOVELAND you can inchvest in land here, but also if you want to support at a higher or different level, or sponsor or assist with gaining additional resources so we can keep things going at the speed and scope that they should be, please call Jerry at 908-343-1981 and we can talk it out.
Much appreciated. Spread the word, spread the love, spread the inches. Back to it… <3
Apr 05
Upcoming LOVELAND Parties & Presentations
Oh man, we got event LOVELAND stuffs coming up in San Francisco, New York, and Detroit (The Third Coast!). On the presentation end:
---
☛ On April 20-21 I'll be speaking on a panel at the 140 Characters Conference in New York. As they say, "This event is shaping up to being the largest worldwide gathering of people interested in the effects of the real-time Internet on both business and "we" the people." Tickets are, appropriately, $140 for the two days. 
---
☛ On May 17-18, Mary and I will be in Palo Alto, CA at a conference by the Institute for the Future where we've been invited to give a keynote talk about LOVELAND with the title "Persuading People To Care". This one is a private conference for invited members of the IFTF network.
---
☛ On the 19th or 20th (to be determined) we'll be in Mountain View, CA to give a talk at one of the Acceleration Studies Foundation's Future Salon meetups. This one's totally free and open.
---
And of course, more importantly, on the PARTY end we're planning 3 events. Tellem, Andrew:
---
♥ LOVELAND Party West: San Francisco, CA
When: Saturday, May 15th 
Where: Noisebridge hacker space
What: Drinks, hangage, a short talk or two over the course of a few hours
---
♥ LOVELAND Party East: New York, NY
When: sometime in June, date to be determined
Where: Rita King and Josh Fouts' Imagination Age Salon in the Bronx
What: BBQ, hangage, and general awesomeness over the course of a weekend
---
♥ LOVELAND Party North (The Third Coast!): Detroit, MI — THE MAIN EVENT
When: Saturday, July 17th
Where: The Downtown Synagogue with Cafe D'Mongo's Speakeasy wide open nextdoor and peops boppin' on the street
What: Bands, video projections, a short talk or two, a video booth where people can record creative ideas for vacant land use in Detroit, all sorts of free-flowing awesomeness
---
If you want to travel for any of these events and need a place to crash, let me know and we'll try and hook it up!